Brett Ecklund
Guitar and Bass Instructor
Lessons:
$35 per 1/2 hour with purchase of 4 lessons.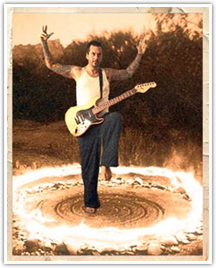 Brett Ecklund has a passion for writing, recording, teaching, and performing music.
He has written well over 500 original songs in all styles, for multiple instruments, and has done professional studio recordings in Kansas City, Nashville, Austin, and Southern California.
For the last quarter century, Brett has had the honor and privilege of mentoring thousands of music lovers of all ages in the fine art of music theory and modern technique and its practical application to the guitar. His teaching credits include the National Guitar Summer Workshop and the University of Texas, along with numerous other schools of music and retail instrument outlets.
Besides the countless concerts that Brett has performed in theaters and clubs of all sizes, he has also played for capacity crowds on tours of amphitheaters across the Midwest and has made appearances on radio and local television.
His intention is to share himself musically with all who will listen, and to leave a lasting impression with his life's work.